N 39° 9.08', W 76° 29.44'

May 7, 2001

Titania Swims Again!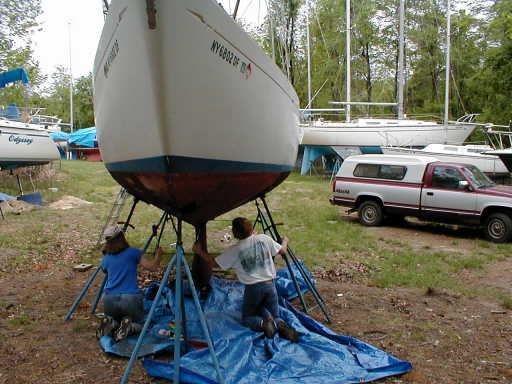 New bottom paint

We found the good ship Titania had weathered winter without us in good condition. Her blue plastic tarp remained intact and in place and except for some water in the bilge (that had probably entered by running down the mast) she was as we had left her. It was fairly late when we arrived so we didn't get much done until Sunday. We then set about painting, checking, and lubricating sea cocks, stuffing box, shaft, and other mechanical systems. And we all transferred what felt like at least 2.5 tons of gear up the ladder and on board the boat. We also took advantage of the truck to do a big grocery acquisition, buying 250 dollars worth of food (mostly canned or dried) to get us started along with two hefty blocks of ice.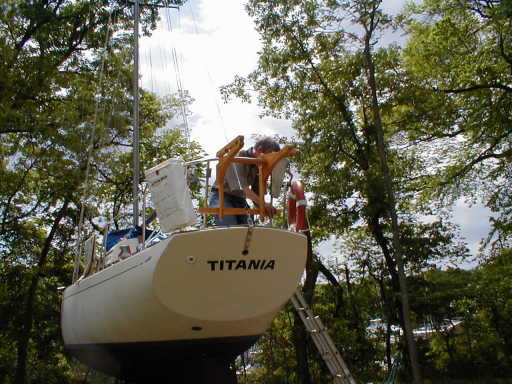 Rigging the bike rack

Both Saturday and Sunday nights were clear and moonlit and we sat out in the cockpit of the stationary yacht enjoying the fragrance of locust blossoms on southern air. Bruce pitched in on the work detail so we had most of the loading and maintenance done by mid afternoon Sunday. That called for a proper dinner out which we found and consumed at a nearby waterfront crab house.

This area, mostly residential with middle class ranches and small cottages less than 20 miles from downtown Baltimore is a surprisingly attractive one. Large stretches are as yet undeveloped (possibly due to the proximity to the port's chemical factories) and support pine plantations, oak, locust, and walnut. The marina lies about a half mile down a quiet narrow paved road lined with trees off the main route and is on an extremely protected cove. It's one of the quietest nicest marinas I've stayed in, yet not pretentious or resorty or excessively upscale. We were very satisfied with the place though we found some of the folks working there to be interesting characters. All were competent and pleasant to deal with though. Even the marina security force, a miniature dachshund, Nelson and a bull terrier, Lily, put up with our odd bikes.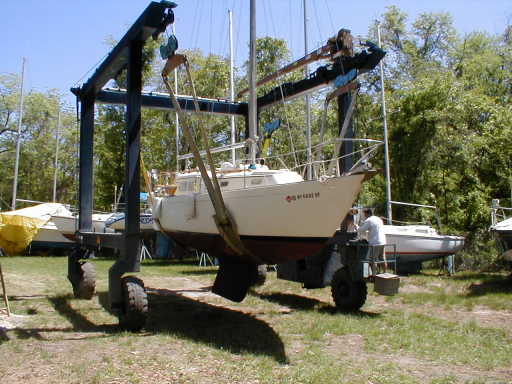 Titania's airborne

We were launched around noon Monday and with considerable curiosity pushed the starter button once afloat. Do we have motor power? Yes, almost immediately, one old Atomic Four available for duty. Those four little cylinders are going to have to push us a good share of the way home! After last minute watering and loading ship, Bruce decided to start the roadtrip back with truck. We are now, once again, dependent on shank's mare, bikes, and boat for transportation.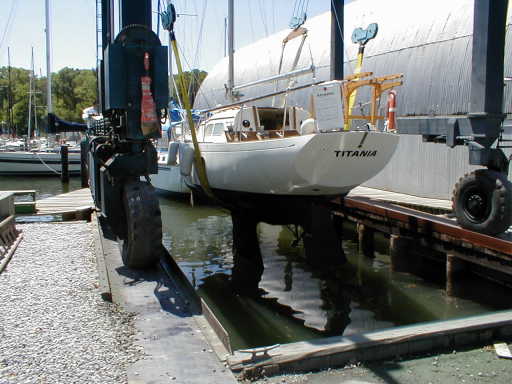 She touches water!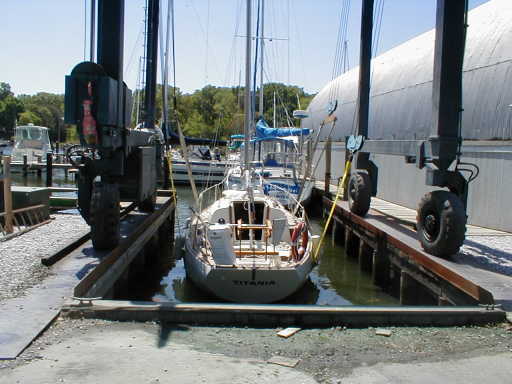 She swims!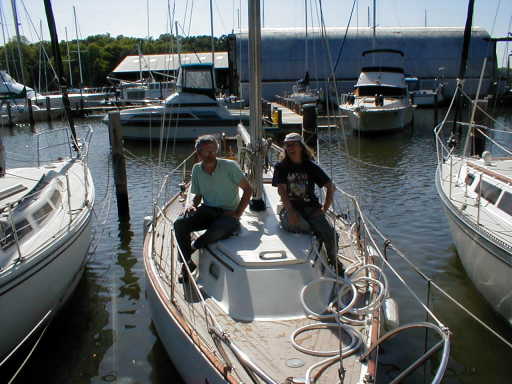 The crew about done for the day