N 38° 58.5', W 76° 29.3'

May 9, 2001

Annapolis, Maryland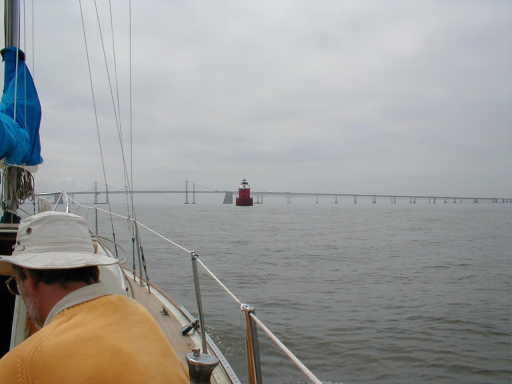 Sandy Point Light & the Chesapeake Bay Bridge

We departed the peaceful Magothy on a mild calm gray late morning after a few drizzles. Under power we picked our way through the crab pot floats that were sown thickly in shallows surrounding the river entrance and then motored under the lofty Bay Bridge just before a floating car warehouse passed us heading north to Baltimore. The things are functional but beautiful they aren't!

Annapolis lies on the broad Severn River, and as you proceed up it, the old city founded in 1649 presents a skyline not unlike that of Kingston Ontario only with fewer block style apartment buildings. The stone buildings and copper dome of the naval academy dominate the waterfront while just inland stands Maryland's state capital building also with a dome, smaller and wooden. And even on a cool weekday in May there were sail boats and various excursion boats traveling back and forth on the Severn.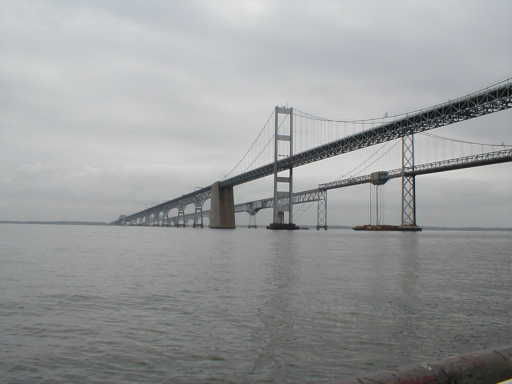 The Chesapeake Bay Bridge

We entered Spa Creek and waited for the half hour bridge opening. Just above the draw bridge the city has established several dozen moorings so we opted to take one for the night. Later we found during a dinghy excursion, there was ample anchoring opportunity as well here.

Annapolis claims itself to be the sailing capital of America and it is a very yacht-y place. Back Creek is lined with sailing yachts mostly of which were over 30 feet long. We motored up its winding channel with the dinghy past the Annapolis and Chesapeake sailing schools with their strings of Rainbows and J boats moored out and past a dozen boat yards. It was a warm and sunny afternoon, with a fair number of weekday sailors out and about on the water. At the docks motionless gleaming varnish, spotless glossy hulls, fresh varnish- Back Creek's net worth probably approaches that of Bolivia.
Good air draft!
Both Annapolis and Eastport's quiet narrow residential streets, abundant early summer flowers and old narrow high buildings give the place a European village feel. The ostentatious mini mansions of the new rich overlook the water. Elsewhere, in the older parts of town, modest bungalows (probably priced in six figures) house a surprising variety of in house businesses. Many are those of craftsmen and artisans serving the yachting community with canvas work, sail making, sign carving, skilled trades like rigging- it was interesting to see such an abundance of entrepreneurial activity in Eastport, the more commercialized counterpart to Annapolis, state capital and Navy Academy home.
In the evening as we sat on Titania we watched the racers return from their evening series. First back were the little 14 foto gaff rigged "Bullseyes". Then came the bigger boats. sailing slowly one after another in a procession up the narrow creek in the light breeze. They'd round up and drop sail right next to the draw bridge and it was fun to watch the crews furling their crackling mylar sails and to see 40 footers handled like dinghies in the cramped creek. A dozen or so pedestrians lined up along the bridge to watch the scene. Meanwhile beside us in the calm backwater two gray haired gents in a motorboat were racing their radio controlled pond boats with great intensity and little conversation. A very quiet hobby, that of model sailboats remarekd Chris.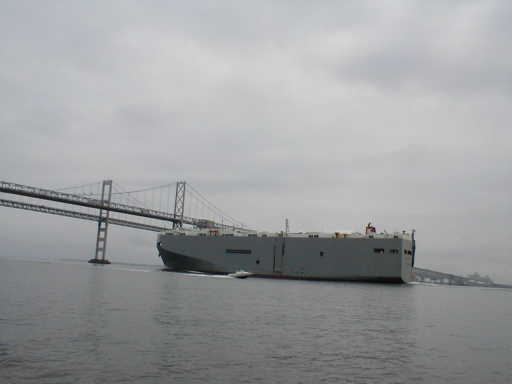 A big, but not pretty, ship passes under the Chesapeake Bay Bridge

For boat watchers, Annapolis offers great variety- a few old woodies, a lot of older "traditional" looking glass boats, at least a dozen different excursion and charter boats, and on this day a modern two masted mega yacht at least a 100 feet long. We stopped during our dinghy tour to chat with the skipper of one charter boat. Captain Chris was readying his steel schooner for another season of day trips. He told of a steel schooner of the design we have thought of building. We decided then to anchor in the nearby creek where it was.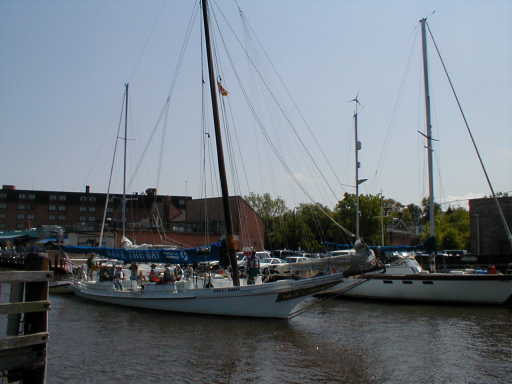 Spa Creek, Annapolis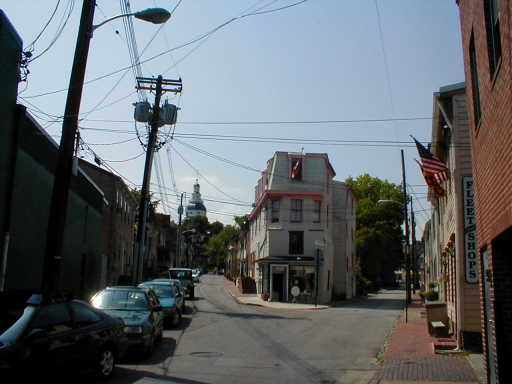 Looking down a narrow street at the Capitol Building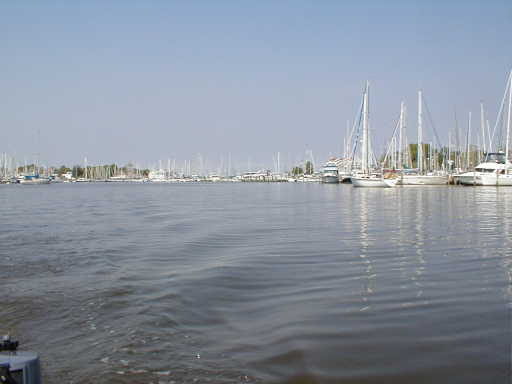 Back Creek, Annapolis, and a lot of boats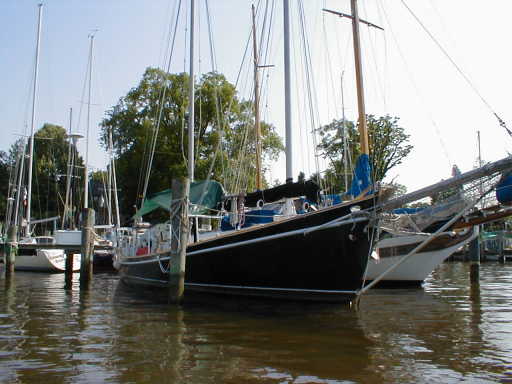 A nice looking schooner in Back Creek