N 39° 0.75', W 76° 26.75'

May 10, 2001

Whitehall Creek, Severn River, Maryland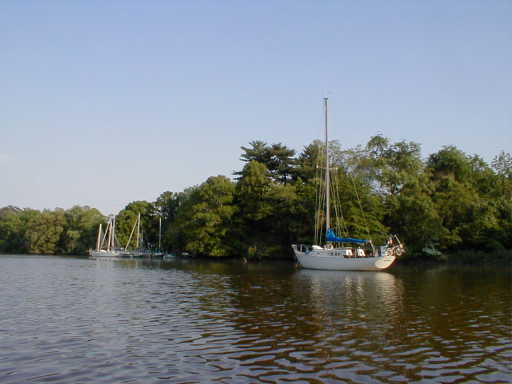 In Whitehall Creek (the Hout Bay 50 to the left)

Chris worked for a morning while I hiked around Annapolis. We then caught the 12:30 bridge and headed over to nearby Whitehall Creek to look for the steel boat were were interested in. Whitehall creek lies near the Naval Academy and is deep, well wooded on its shores with nice big oaks tulip poplar and basswood and is very pretty. It's upper reaches aren't even too densely developed and the place was surprisingly peaceful. We soon spotted our quarry the Hout Bay 50 up in Ridout Creek and while looking for a place to anchor nearby, the creek reached up and grabbed Titania by the keel. Oops. Chris rigged up the halyard to an anchor carried out to try the heel her over routine. It worked- we slid off the nice soft sticky mud after getting a little heel on her. We then anchored in a pretty tree lined spot surrounded by bird song and tranquil murky waters.

We watched herons and cormorants fish, a resident pair of geese, a pileated wood pecker and a pair of osprey swooping and soaring, all this within earshot of the roar of a 4 lane expressway somewhere close by. We even had an osprey land on one of Titania's spreaders. They are pretty fair sized birds as hawks go- barely room for it up there!

We spent a very quiet night and I don't think saw a single motorboat go by after we had anchored. We left for St. Michaels impressed at just how peaceful this pretty western shore creek had been.