N 38° 47.3', W 76° 13.1'

May 11, 2001

Whitehall Creek to St. Michaels, Miles River, Maryland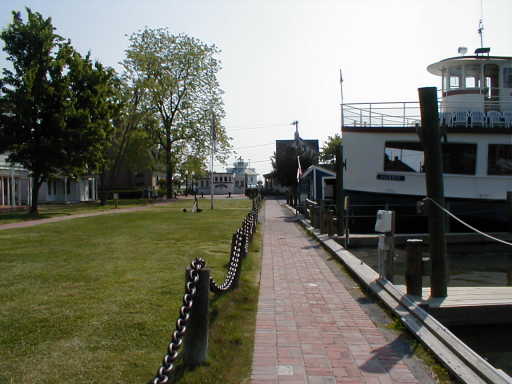 Approach to Maritime Museum

Winds were light so we motored most of the 25 or so miles to St.Michaels, arriving on a warm sticky summer-like afternoon at the town fuel dock. St. Michaels lies on the Miles River. Like Annapolis this is an old settlement dating back to the late 1600's. Back when tobacco was king of the low lying fields of the Eastern Shore this was a major trade center later becoming known for seafood processing and shipbuilding. (Some of the land around the harbor on which the Crab Claw restaurant stands is mostly fill consisting of vast quantities of oyster shells from the processing plants here.)

Many reminders of the town's past remain here in its well kept and restored 18th and 19th century homes. Today the place depends on tourists for much of its livelihood, so it has a very comprehensive selection of interesting little stores and shops selling jewelry, gifts for your pet, high class original art, pottery, antiques and happily for cruisers, one supermarket. There is also a little waterfront park where on Saturdays a farmer's market offers local produce. I bought some hot house tomatoes that tasted like the real thing! First tomatoes of the season for us.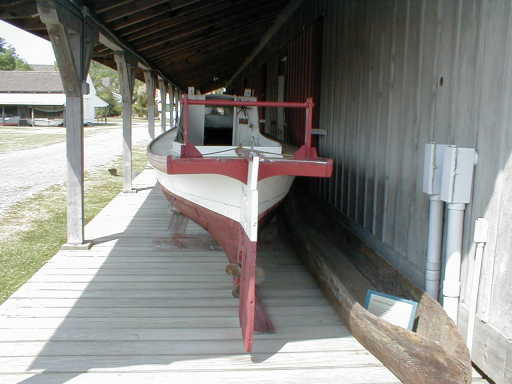 1908 Log Canoe

St. Michaels is also home to one of the largest maritime museums on the bay. I hiked over and took some photos, as you see here. The museum's notable exhibits include several working vessels like a sailing skipjack and bugeye and dozens of other smaller workboats. The Chesapeake watermen developed many distinctive types of working boats. There were at least three types of the log canoe along with special craft for tonging oysters, netting, and commerce. Today these little vessels, the nautical equivelent to the contractor's pick up truck, are all but gone from bay waters. The museum has a half dozen log canoes on exhibit.

These unique sailing boats evolved from Indian dug outs. Some early builder got the idea of making a bigger canoe by putting several logs together and then hollowing them out to form the boat's bottom. A plank was then spiked to each side to raise the freeboard. You can see how the builders literally carved the log canoe's shape from solid yellow pine logs. The bottoms of these boats are 3-4 inches thick while the top edge of the hollowed log is only about one inch thick. Some of the older larger boats also have naturally grown crooks for frames. All the various log canoes are narrow and pointed at both ends. There are about 18 left still being sailed and a couple of new ones have been built using traditional materials and techniques within the last 30 years. One privately owned boat is over 130 years old.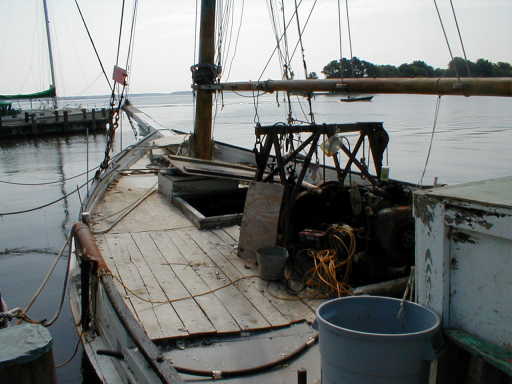 Working skipjack 'City of Crisfield'

The museum's two skipjacks are interesting in contrast-one being a restored museum boat, the other the City of Crisfield, apparently still a working boat is laid up. You can see her dredging machinery amidships, powered by some sort of vintage auto engine. Judging from the instrument panel gauges the little motor is probably 40 years old. No hydraulics here. The running rigging, lazy jacks, and sails have mostly been stripped for the boat's summer lay up ( the few remaining skipjacks work in the winter). I suspect the hatch covers are all off to promote ventilation, since the muggy summers here are very hard on old wooden boats. I was told once the work boats here were massively overbuilt partly to compensate for the dry rot poblem. They do seem to have very heavy plank and framing.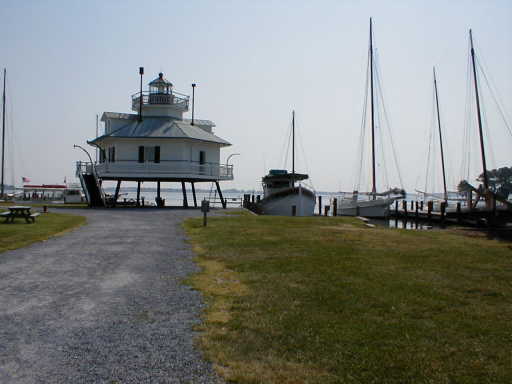 Hooper's Strait lighthouse

The museum's other must see is the Hooper's Strait lighthouse, that once stood upon its cast iron legs on a shoal marking the channel into Tangier Sound. It was transplanted to the museum in 1966 after being replaced with an automated beacon. Before it was automated in the late 1950s two men kept the light going. The light house was considered to be an "isolated station" and so not suitable for their families.The families were allowed to visit them for just 2 weeks a year. This little platform prison had wooden water tanks to catch rain water, a couple of stoves for heat and cooking and not much else to keep the men diverted. The lighthouse service did bring them books. It looked like a pretty austere sort of life here, no garden, no island to walk around on, just a little platform a good ten miles from the eastern shore of the bay.The keepers were expected to watch their lamps "as long as the house stands" and could be dismissed if they abandoned ship too soon. But at least one Chesapeake Lighthouse was toppled over by winter ice!

We did a bit of shopping in St. Michaels and since its harbor was lined with restaurants we felt obliged to support the local economy. Chris had another crab cake experience. Then all pumped out and fueled up, we were ready for another few days of "self sufficiency".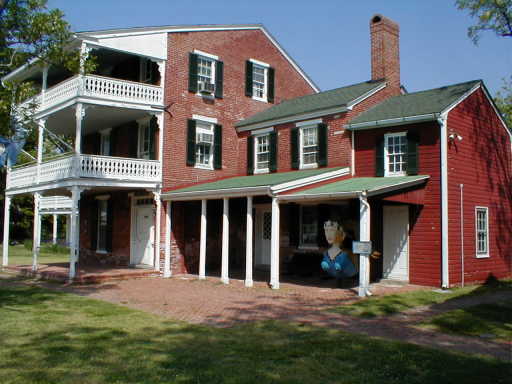 Well-endowed figurehead of the schooner 'Freedom'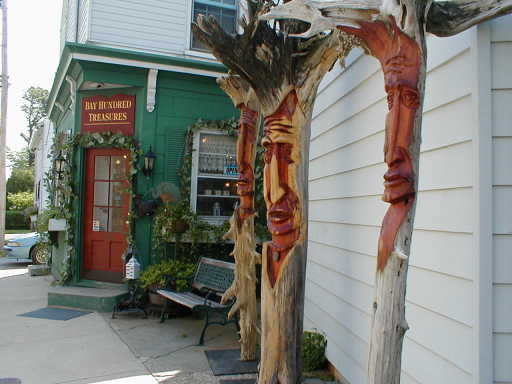 Shopping in St. Michaels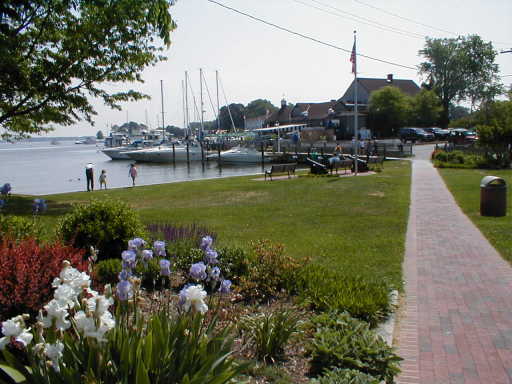 Town park and harbor