N 38° 52.2', W 76° 10.5'

May 12, 2001

St. Michaels to the Wye East River, Maryland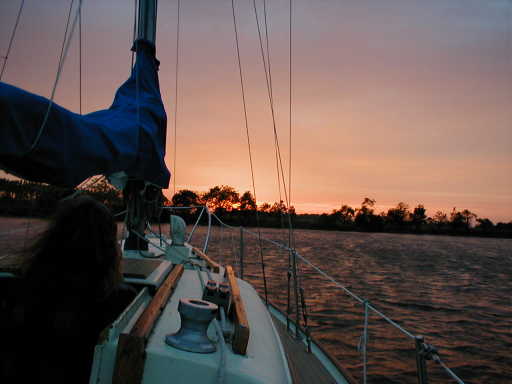 Sunset on Wye East River

We spent the night in a little cove near St. Michaels off the winding River Wye. The Wye twists and turns, hiding and revealing its channel in a constant unraveling riddle. We went just a short distance up its eastern branch on a warm muggy afternoon before deciding on a broad shallow cove to drop anchor in. We figured with so many upbound yachts behind us, that the guide book recommendations for anchorages a bit further upstream would probably be pretty full.

As we entered the quiet cove we observed a native, quite nude, walking and wading along the shore. The cove of the naked man was lined with a sandy beach, fine tall trees, and was backed by an as yet unplowed farm field. A fragrant stand of flowering locust along its western shore scented the air. We tried to decide what the nude beach comber was doing- best guess was perhaps tending some crab trot lines??

Later clouds moved in and two other yachts anchored nearby but still leaving ample room in the cove. We watched the mute swans ( I counted 32 of them) foraging and marveled at the whistling whine of their big white wings as they flew past. Late in the day the wind stiffened as the cool front came through, and all night the wind was restless whining in the boat's rig and fussing with the tree tops on shore. Not much rain came of it though.