N 38° 20.2', W 76° 26.2'

May 13, 2001

Wye East River to Solomons, Mill Creek, Maryland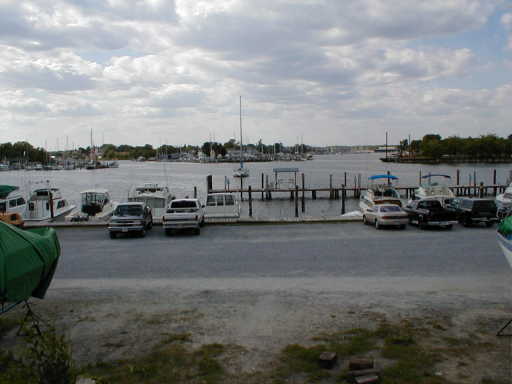 Solomons harbor

It was still brisk with brown foam streaked water and 1 to 2 foot chop the next morning when we thrashed around the corner of the Miles River headed for Solomons.

Once around the buoy, we started sheets and rushed along on a fine broad reach. We added sails as the wind dropped and by noon we were ambling along wing and wing with a 10 to 15 mph north wind. The blue sky overhead was warm, and all day we slipped past the low lying shores of the bay near the Choptank River and Tilgman Island. These low points and headlands beckoned mysterious and inviting, but we pointed our prow at distant Cove Point and the Pautuxent River.

Titania sailed into summer this day, leaving spring behind, sailing south to shores dressed in the dark green of summer. Roses, late iris, and day lily stems- it is summer now. Off Solomons a pelican flew past us. I'd read they were now breeding on several Bay islands but this seemed like a very tropical touch to the shores of the Chesapeake. We worked up a quiet residential creek and dropped anchor for a calm night.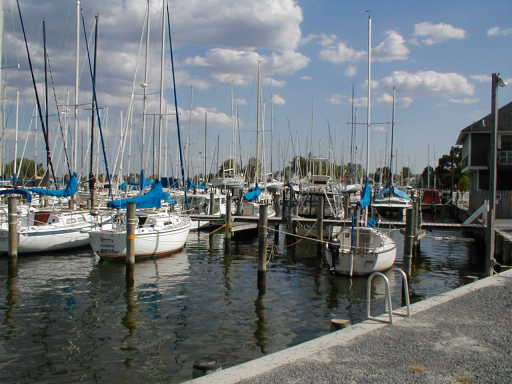 Back Creek, Solomons

Monday was a lay day. I puttered around Solomons while Chris worked and during my library cruise at the U of Maryland I learned pelicans first appeared on the Chesapeake in 1987 and are now up to over 800 pairs breeding on several islands. I was surprised to see what I thought of as a southern California or Florida bird here! Late in the day two Lake Ontario bound cruisers found us and we spent a pleasant evening hearing of their adventures with bridge tenders, fouled anchors, and cold weather in Florida. They departed early heading north Tuesday. They hope to be back on Lake Ontario and Sodus Bay in a few weeks, Universal Atomic Four boat engines willing.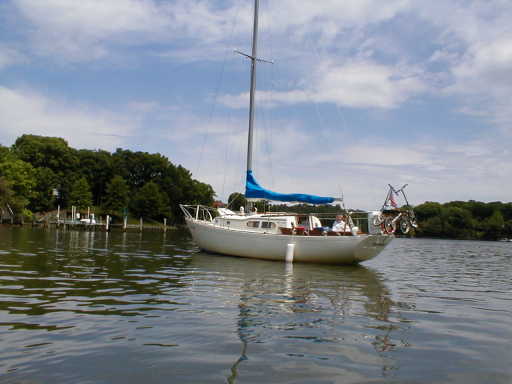 Mill Creek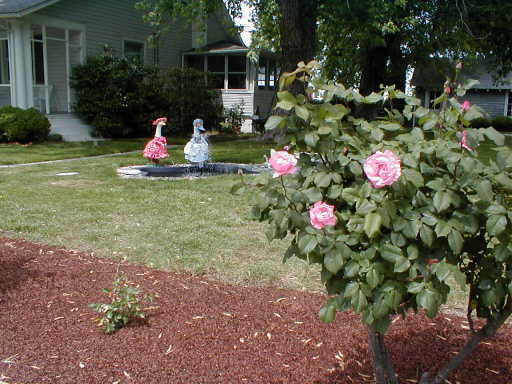 Solomons rose garden