N 37° 47.5', W 76° 19.8'

May 15, 2001

Solomons, Mill Creek, Maryland to Mill Creek, Virginia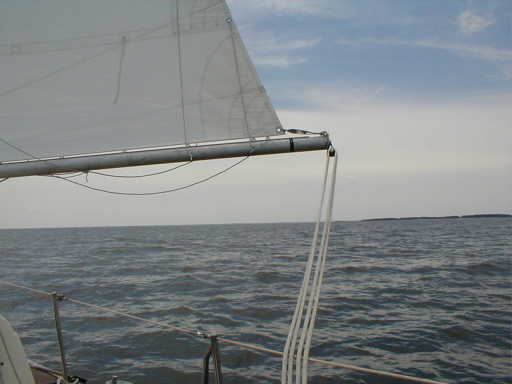 Point Lookout, Potomac River

We left with a light northeast wind when we departed Solomons on a cool clear day. Light overcast kept temperatures down and we managed to sail for about 20 miles, about half the total distance. As we neared the ten mile wide mouth of the Potomac, the low lying Eastern Shore disappeared entirely below the horizon. Here the bay is over 20 miles wide and feels a bit more like Lake Ontario except for the short choppy waves and the obvious salt deposits on the deck and eyeglasses. The wind dropped after lunch, so we started up the motor.Our target for this day was the Great Wicomoco River (one of at least three Wicomoco Rivers on the Bay). The Chesapeake has so many coves and tributaries and subestuaries that people ran out of names for them. We've seen several Back Creeks, Mill Creeks and so far 2 Dividing Creeks.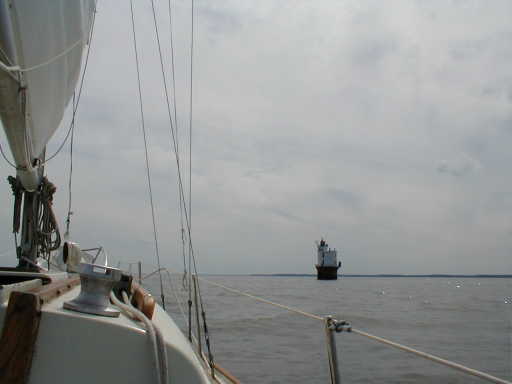 Smith Point Light

By late afternoon we had the place in sight, Reedville and Mill Creek being our chosen anchorage, but first had to thread through a half dozen large stake nets to reach it. These fish traps are in 15 to 20 feet of water and consist of netting strung between wooden poles to make up a holding pen or "pocket" and a long leader to guide the fish into it. Each holding pen we passed had a generous allotment of fish eating birds hanging out on it-cormorants, big blue herons, a few pelicans, and gulls. Nice of the humans to catch dinner for all the hungry birds.

We followed a winding twisting channel into Mill Creek, a pretty place with some newly built waterfront houses but also with lots of undeveloped wooded shoreline left. Here we watched the several resident Ospreys hunting for fish, soaring and hovering, and as this day ends the wind drops and the coves and reaches of the creek grow still and calm. Titania made it to Virginia. Soon it'll be time for her to chase summer north again.