N 37° 15.9', W 76° 1.0'

May 17, 2001

Mill Creek, Virginia, to Cape Charles, Virginia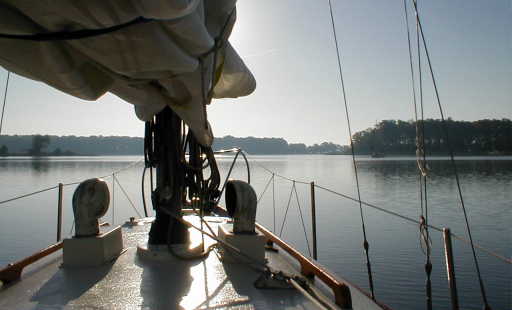 Sunrise on Mill Creek

Peaceful Mill Creek's tree lined shores and many coves invite further exploration-perhaps we'll visit there again someday. After watching a local crabber pull his pots in the cove we were anchored in, we got underway motoring past fish traps to put up main and genoa. We set off on a lively close reach down the bay heading 170 degrees with an east wind. As we drew offshore, the bay widened before us. The empty waters and lumpy waves were more like those of Lake Ontario than we'd seen previously. We watched the menhaden boats returning to Reedville with their catches. Five about 100 foot or so gray hulled seiners came up from the south heading to the fish plant to have their cargoes turned into fish meal and fish oil.

We watched ships and tugs with barges pass by to either side, one or two a bit close for comfort as we reached across the main shipping lanes of the bay and we watched the leaping cresting rolling water around us turn steadily greener and saltier as brine dried and sparkled on the side decks. Soon the genoa was exchanged for the working jib, then as we neared Cape Charles we reduced sail again by reefing the main. It was a lively day on the lower bay, though yacht traffic was light, and we reached Cape Charles around 3 pm. We sailed about 35 miles in about 6 hours, a nice change from motoring. After getting fuel and a pumpout we settled in for the night at a dock.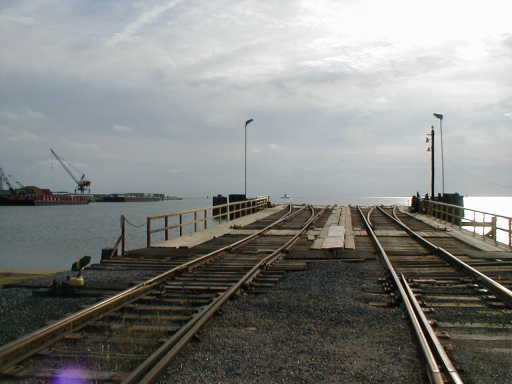 Rails ending at the ferry dock, concrete factory to the left

Cape Charles was once a railroad town where the ferry took train cars across the bay. (And a short line still sends some cars over the water today). Cape Charles is pretty quiet early in the spring, though. A dozen or so work boats operate out of the harbor and an interesting steel schooner does charters here. It's owner gave us a tour. The boat was a Colvin design called the Memory and this one was built in 1984. She was licensed to carry about 30 passengers on day trips and the couple running her had previously owned a smaller steel schooner they had used as an uninspected charter boat. The bigger boat took both of them to manage but this couple, adept as they were with lots of tall ship experience and with experience as seamanship instructors with college accredited SEA out of Woods Hole, had no difficulty handling their 25 ton vessel alone. It was interesting to see her lay out and construction details.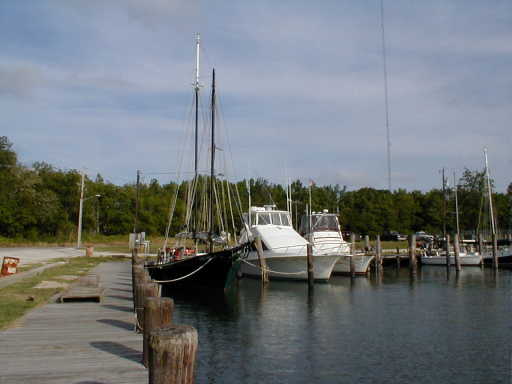 The Schooner 'Serenity'

May 17 We went to the supermarket and shopped with the assistance of our bikes and Chris put in some computer time. After lunch we went off on a bike expedition in search of a shower. We took a wrong turn and headed out into the flat low sandy countryside for several miles. The as yet unplanted fields of light tawny soil look quite dry. Occassionally we passed fragrant masses of viney honey suckle now reaching full bloom along the roadside. We eventually found the elusive shower at the Kings Creek Marina.

The tidal waters of King's Creek are too shallow for Titania but this was a pretty place. The creek winds past forests and fringes of marsh and is quite wide yet sheltered in its lower reaches. A couple of weathered wooden wrecks lie in back waters and the shoreline is notably lacking in high priced waterfront houses. This looked like the tidewater Virginia I remembered from a cruise here 25 years ago. The clear waters in the shallows revealed beds of clams and scurrying little crabs. I assume since the clams and mussels were obvious and abundant they must have been too polluted for human consumption.

The marina consisted of a dock complex meandering over the shallows and a clientele of mostly working fish boats. Three small shabby buildings perched on pilings. One, with a decided tilt to it, was the self styled "bath house". It wasn't elegant but there was hot water and the shower was highly satisfying.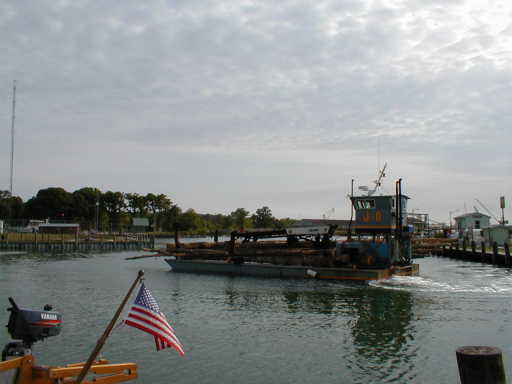 The barge makes a turn

Cape Charles is now in the early stages of gentrification, but it still retains a slightly shabby delapidated charm that makes us upstaters feel quite at home. It's little port has enough activity to satisfy dock watchers. We watched a little self propelled barge loading up long skinny fresh-cut pole like logs, we observed various Coast Guard vessels come and go and we pondered the concrete factory and the shuffling back and forth of strings of rail cars. All this coming and going makes the place quite entertaining. Half the dozen or so boats at the town marina are work boats and the mix of commerce, charter fishing, charter sailing, and head boats is very different from that up around the mid to northern bay. There is a very strong tang of salt in the atmosphere here. The ocean is not far away.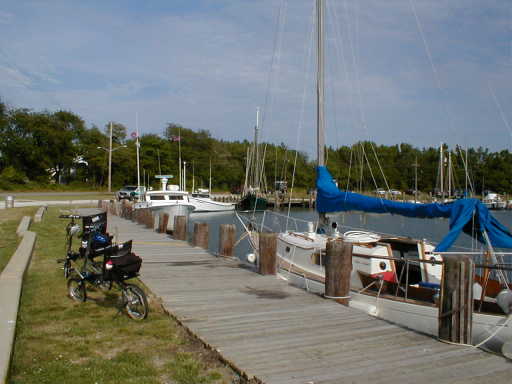 A day at Cape Charles