N 39° 0.7', W 76° 26.5'

May 22, 2001

Indian Creek, Virginia, to Solomons to West River to Whitehall Creek, Maryland

May 22 Indian Creek to Solomons

As we got underway from peaceful Pitmans Cove, pale hazy sunlight showed briefly, then faded as more gray cloud moved in. But once more, we had a fair wind. On a broad reach Titania stomped up the bay under full sail, hitting speeds of seven plus as she foamed along over the dark water. We traveled about fifty miles nearly all of it under sail. About an hour or so from the Pautuxent River it began to rain. Visibility faded to about a mile but we found our markers and buoys thanks to the trusty GPS.

The "shower" settled into a steady rain as we entered Solomons and searched for a place to drop the hook. We set ourselves in the midst of a little cove a short way up Mill Creek. One side of it was lined with condo docks, all empty and nary a condo onsight onshore. ( Maybe the financing fell through?) We figured if we dragged during the night, we'd just bump into a dock and reach over and tie up. But the wind never did blow very hard that night.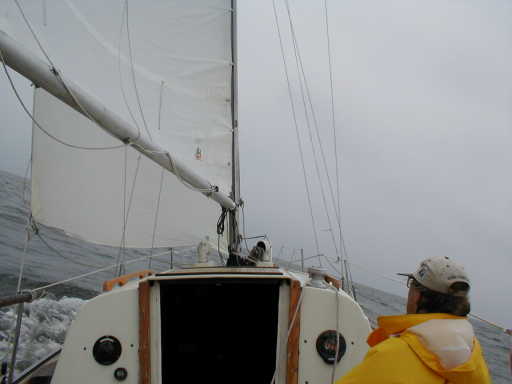 May 23 Solomons to West River

We set out on another glum day of low stratus and iron colored water but rain free and with a fair wind again. Once more we headed north with the loons and once again we went along smartly. We sailed a bit over 28 nautical miles in five hours rompin and stompin over the lumpy chop of the bay. We set our sights on a dock, shower and a restaurant meal ashore so headed into the West River just a few miles south of Annapolis for a night at the Pirates Cove Marina. Despite its proximity to Annapolis the West River was not that densely developed and was a very pretty sheltered waterway. As we were tying up we saw Titania's big sister, the 42 foot Comanche Chris Craft motoring up river to another marina. She looked all but identical to our boat, just ten feet longer! We enjoyed stuffed flounder and seafood pasta at the marina's restuarant on a busy Monday night. A number of middies in their whites were eating dinner with family and we suspected it was about graduation time at the naval accademy with the busy scene here this being overflow from nearby Annapolis. Back at the slightly clammy boat we settled in for the night with a bit more rain coming down.
May 24 West River to Whitehall Creek.
The morning forecast for an oncoming cold front possibly with strong thunderstorms and hail made us decide to get an early start for a very short hop up to Whitehall creek. Here Chris could put in some computer time and here, too, we hoped to tour a steel schooner that we'd called the owners about last week. With glassy water and hazy sun we departed the quiet West River. As we motored past a lighted day beacon with the all but inevitable Osprey nest on it we saw an outboard boat labeled Fish & Wildlife Service approach the marker with one person wielding some sort of long pole or boat hook- it looked like another eviction was about to occur like those we'd noticed in Annapolis a week before. The Ospreys flew off and the Federal inspection was brief, one poke at the nest then the boat left. Apparently these birds had complied with local zoning ordinances with their 2001 addition so their nest was allowed to pass.
The fish hawks are really fond of lighted daymarks because of the nice little platform they include, and most of the time the nests don't get in the way of the light. But the birds just keep adding sticks, year after year so if the nest gets bulky enough I guess they can obscure a beacon. Some of the nests on the unlit day beacons look pretty precarious- like a good wind would blow them off.And I saw one nest in Solomons that was jammed down in between the green squares- only about 8 inches or so- compressed like a Baltimore row house. We wondered if the chicks would come out real tall and skinny...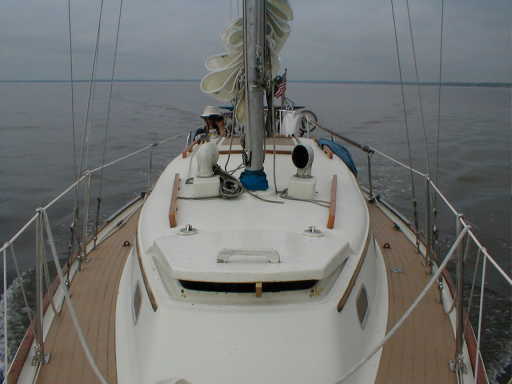 No sailing today

As we motored up to Annapolis we noticed an odd looking boat in the distance heading north up the bay. On the radio we heard an Annapolis charter schooner calling it by name- it was the "play barge" that we saw last fall in Waterford! ( And posted pictures of). Like us, she was apparently headed north to the Hudson for another season.

We settled in for a half day at the office in a secure pretty anchorage hoping to meet the owners of a steel schooner we took a fancy too last week while here. About when we tied up the Navy Blue Angels went shrieking overhead doing a half dozen low level passes. So I guess it probably was graduation day at the Naval Accademy. Good time to avoid Annapolis no doubt.