N 39° 31.6', W 75° 48.5'

May 24, 2001

Whitehall Creek, Maryland, to Sassafras River to Chesapeake City, Maryland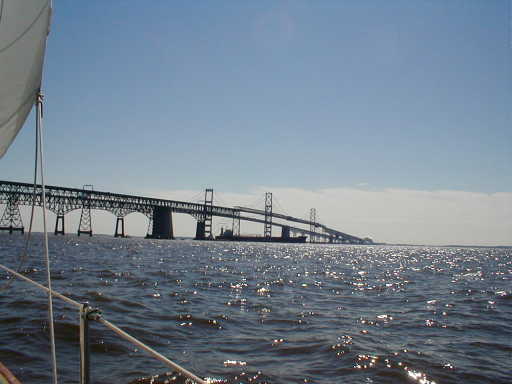 The Bay Bridge again as we head north

On May 23 Titania set out northward with a brisk northwest wind. The rains and the not too strong cold front's passage had cleared the air and made for great visibility. I didn't lose sight of the bay bridge astern until late in the afternoon. Unfortunately after about 4 miles of sailing we ended up motoring as the wind was dropping and the tide was against us. So we started the engine. At one point we were sailing along just staying even with a little outboard motorboat. Only he was anchored and fishing! We had the tide against us most of the day.

We arrived off the Sassafras River in late afternoon and anchored well off the south shore a couple miles east of Betterton. The Sassafras is a wide river at its entrance, perhaps three miles across. Much of its south shore is fronted with fairly high rust colored bluffs of sand and clay and not too many houses. We set the anchor in front of a spit that closed off a large pond from the river. Much of the Cheseapeake's interest for cruising comes from the way it divides itself into smaller and ever smaller waterways. A single creek off a river off the Bay might have 20 coves to explore with your dinghy. Chris says the Chesapeake's many diminishing divisions are like fractals. We admired this pond off the Sassafras while birds sang and several times we heard a loon call. We also heard peepers, green frogs and tree frogs and on shore yellow iris bloomed so we are back in fresh water again.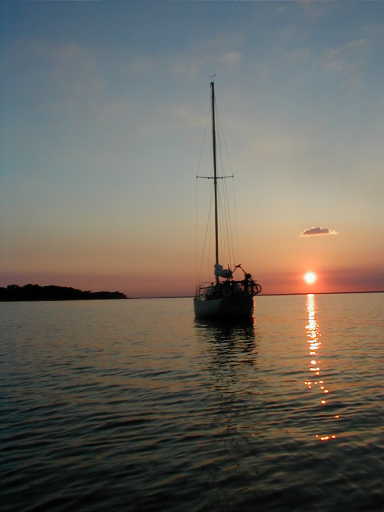 Sunset on the Sassafras

May 24 The contrast to Wednesday's 20 plus mile visibility couldn't have been sharper when we awoke- thick gray fog. We couldn't even see the shore less than a half mile away. However, by 8:30 or so it was showing signs of burning off. Chris wanted better cell phone coverage for a work day and we figured Chesapeake City would have it. So we decided when we had one mile visibility to head up to that port. It was a good decision.

Visibility continued to improve as we steered for our first waypoint along the well marked (and busy) main shipping channel. By the time we got to the canal proper the sun was burning through. Now we had the tide behind us as we motored into the canal so we made the 20 miles up to Chesapeake City far faster than yesterday's run. We arrived before lunch to tie up at the free town dock so Chris could put in some office time. I went ashore for a bike ride on the fine flat terrain after we made a grocery run.

This is a pretty time to visit. The town is considerably livelier than last fall when we stopped in here and peonies and azaleas and iris still add color to yards. The old mid 19th century houses for the canal workers (this town was established at the time of canal construction) have been fixed up and there are lots of interesting antiques, gift and art shops. Most of the houses are painted up and have new roofs and windows yet they retain a modest mein. They're mostly small and unadorned with gingerbread or fancy iron work. Many still have their sheet metal roofs and an occasional saggy roofline or other imperfection makes the town's downtown core feel less like a museum and more like a place people live in. Chesapeake City's working heritage is apparent in its residential architecture.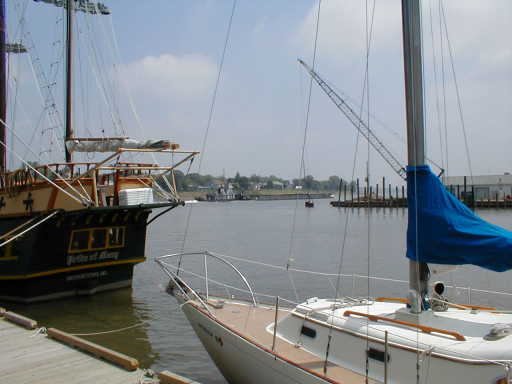 Chesapeake City harbor

We enjoyed a good meal ashore (back to tuna helper tonight) and took an evening bike ride out into the country where horsefarms are giving away to Delaware sprawl. We peddled back along the gravel surfaced canal acess road, past flowering bushes and shrubs and tall grasses of summer. On this mild warm late May evening it is certainly summer here.