N 39° 31.0' W 75° 34.5'

May 27, 2001

Chesapeake City, Maryland to Reedy Island, Delaware Bay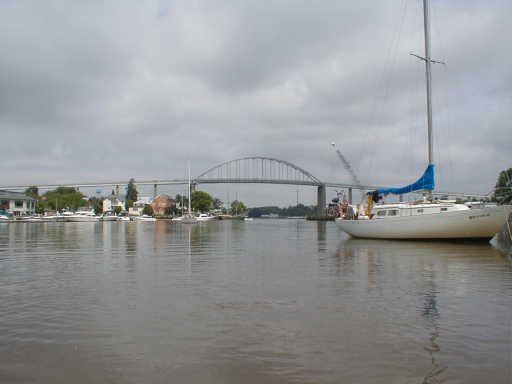 The bridge at Chesapeake City

We left Chesapeake City and motored through the canal to Reedy Point, Delaware, a short run of about 20 miles or less. We anchored in this open anchorage again finding it windswept and beset by strong currents generated by six foot tides. Like last year we tried anchoring with two anchors but almost immediately when the tide turned against the wind the boat fouled one of the rodes on her keel. This caused her to turn broad side to the wind and current putting a big strain on the anchor and our nerves. We spent at least an hour trying to sort this out and settled on one anchor with a rode weight. This kept the line down on the bottom so Titania couldn't catch it with her keel as the current pushed her against the wind. It seemed to work very well.