N 40° 47.4' W 73° 59.0'

June 1, 2001

Sandy Hook, New Jersey, to 79th Street, New York, New York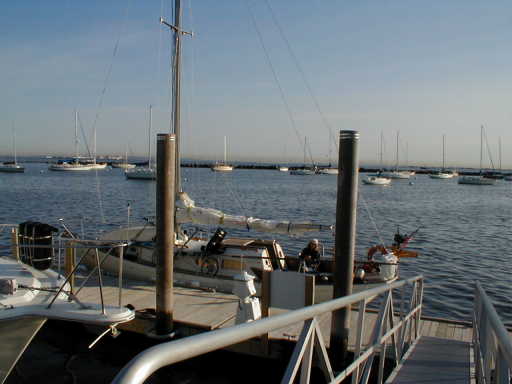 Atlantic Highlands marina - time to depart!

On the first day of June Titania left salt water astern and with a fair wind on her quarter sailed north. Our intention was to catch the flood tide and ride it up the river under the big suspension bridge, past Manhattan and Coney Island and The Bronx and on up to Tarrytown. That was the intent, and full of optimism and hope on a sunny morning we sailed along over smooth water.

At 11:30 we waited for the anchored tankers above the narrows to swing around. They didn't. At 12:30 they still hadn't swung and we were still sailing and just then passing under the bridge at a net speed of about 3 knots. Surely it'll turn any minute now. We sailed on doing 5 or 6 mph through the water and 2 to 3 over the bottom. It felt great bounding along but it sure took awhile to get anywhere!
New Jersey-New York harbor is a busy bustling place. Most of the shipping now goes to New Jersey terminals. We saw 3 or 4 tankers anchored, a couple unloading , and 2 passed us as we came up. Pilot boats, tugs, barges, excursion boats and ferries keep you alert here. We saw perhaps two other yachts sailing this day. Slowly the massive presence of Manhattan's southern tip drew closer as Titania sailed on a broad reach. We passed Lady Liberty, still holding her torch high and near the East River we passed a splendid traditional schooner, the Pioneer out of the South Street Seport museum. Under full sail with a cargo of young apprentice mariners she was a grand sight, it was good to see someone else out here sailing!
The Sea Streak ferry we rode a couple of days ago

Above the East River we hugged the shore passing close by some of the decaying wharfs and piers of New York's past days as a port. We saw the Cunard LIne pier where once the pround grand Atlantic liners discharged their cargo of humanity-now empty and rusting. The freight has shifted to New Jersey or south to Norfolk-Newport News and the passenger liners are far less frequent here than in the past. Under sail you hear things that the noise of the engine would block and the distinctive drone of an old warbird caused us to look up near the Empire state building and see a B 17 passing overhead. Earlier we had seen some modern jet fighters doing tight formation flying over the harbor, maybe there was an airshow in the region. A bit later the I heard the thonk-hiss of a steam pile driver at work, that surely was a piece of vintage equipment.
This harbor is a vast place, a world unto itself where unnoticed and overlooked by the busy world ashore hundreds of people engage in activities ranging from picking up trash and logs to narrating tours. Although perhaps not as busy as a generation or two ago, it's still filled with activity. Shortly after we passed the aircraft carrier Intrepid museum, we saw the 79th Street Boat Basin. This is one of the few havens for tide bound travelers as the next stop off above Manhatten is 28 miles further on. We took a mooring for the night and are still trying to figure out what happened to the high tide. We are hard by a busy 4 lane highway. It's rush hour and the cars are clogged up and moving pretty slowly a few yards away from our very separate reality here aboard Titania. A bit of rain is coming down, so this looks like a pretty good spot right now.