N 43° 19.728' W 76° 42.204'

June 13, 2001

Little Falls to Lock 21 to Fulton to Little Sodus Bay, Lake Ontario, NY

Titania left Little Falls and her neighbor the 100 year old tug Urger, now a good will ambassador for the canal serving as the official State Tug, and headed west for Oneida Lake or somewhere close by. When we saw the quiet country setting of Lock 21 only 6 miles east of Oneida Lake we thought this was the place to spend a night. We tied up and I briefly explored the gravel foot trail that ran along the canal with a bike after dinner. An evening chorus of bullfrogs was sounding off in a pond by the trail, each frog with its individual voice from tenor to deep bass. When one called it set the whole pond off and they went back and forth mooing like their namesakes. Back on the boat we kept hearing another persistent noise, it was louder below deck than above and I think it was generated by fish, possibly spawning and making noise about it. It was a sort of purring almost like a distant outboard or one cylinder diesel. Very odd.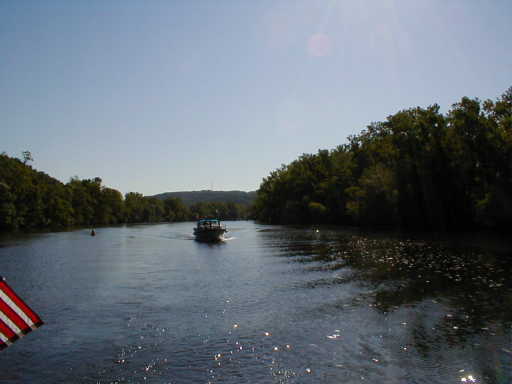 The Canadian snowbird 'La Volce Vida' overtakes us

The next day began overcast and soon after departure the rains came. With a southeast wind and mist and rain we rolled along through Oneida getting a boost from the wind. The lake generated some two foot waves and it was a very wet day. The waves were most impressive after the canal's two to three inch seas. We were glad to heave the wind behind us. On the other side, back in the peaceful canal again, the rain stopped then started again. We made it to the intersection of Oneida and Oswego River and began heading north. We were getting close to the end of the 24 mile long Oswego Canal when we decided to stay at lock 3 in Fulton for the night.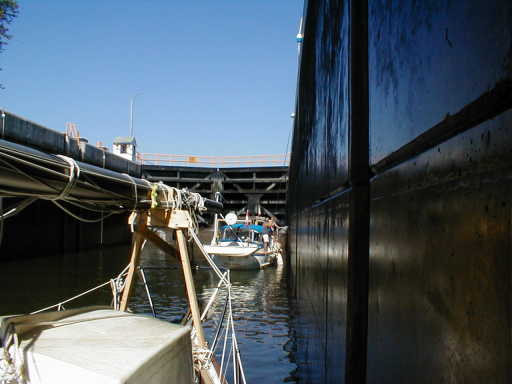 In Lock 18 with 'La Volce Vida'

The next day morning fog and mist burned off and we had fair weather. It was distinctly muggy too, unlike the previous few days- summer moving in now. Once more traffic was light and several of the locks were open and waiting for us so we made good time reaching Oswego by 11 am and shortly thereafter the big lake lay before us- as calm and glassy as the canal! We were pleased by this, being a low powered motor boat as we now were. Titania's log read 978 -it looked like she wouldn't quite make it to 1000 miles. We felt the cool breath of the lake on this humid warm day- that was something different.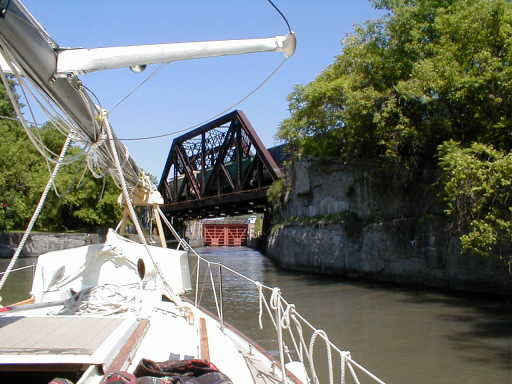 Seemingly tight squeeze ahead

We entered Fair Haven in early afternoon passing the familiar jetties as if we had just been out for a little day sail. Except for the mast on deck. And then we were back at the mooring. Time to pack up the dinghy and head into shore, reality and all that. Already the trip seemed somehow a bit unreal and we looked back at Titania on the mooring, travel stained and dismasted and marveled did this thing really happen? It now seems a bit like a dream or something imagined as we settle back into the shore side reality of life in one place. Our bed no longer rocks, the scenery outside the window doesn't change, and there are two cats sharing our space. Cars seemed awfully fast for the first few minutes back on the road again but we're getting used to being shore bound again. It was fun though.We'd probably go again given the chance.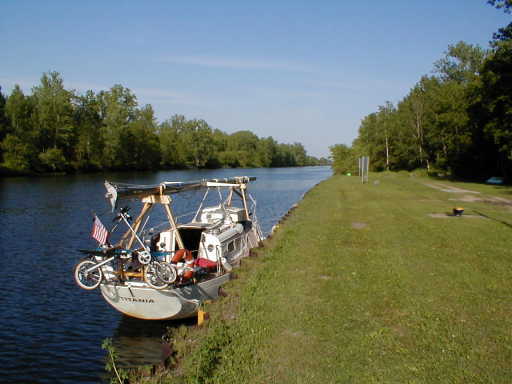 At Lock 21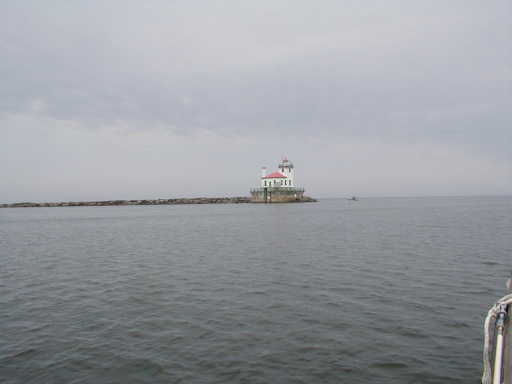 The Oswego Light, Lake Ontario, & almost home!