September 9, 2000 - Sylvan Beach, NY - N 43° 11.342' W 75° 44.330'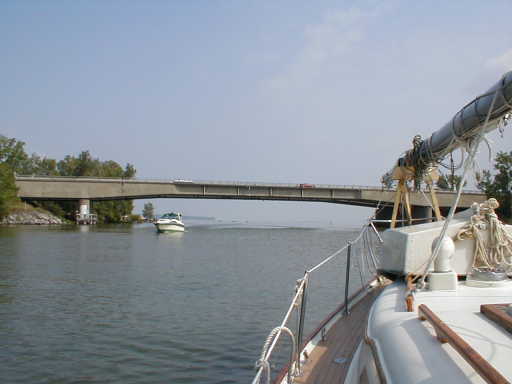 About to enter the east end of glassy Oneida Lake

The Port of Phoenix welcomes cruisers with a rare prize indeed- a free do-it-yourself pump out. Also adding to its attractions is a one minute walk to the Red and White supermarket across the street so we bought another block of ice, emptied the holding tank and shoved off. The Three Rivers stretch of canal where the Seneca, Oswego and Oneida Rivers intersect, is an attractive run with its meandering channels, several wooded islands and black waters. Much of the shoreline is undeveloped with large trees so you can gaze off into the lush leafy green depths of the forest as you steam along.

We reached the open waters of Oneida Lake a bit after lunch and set out over its 20 odd mile length with no wind and mirror like water. This for a sail boat with her mast on deck was ideal. Oneida is a sizeable but very shallow lake. It is known for its productivity of perch, walleye, and bass, but on this day it was experiencing the most intense blue green algae bloom I've ever seen. There were so many one celled plants that they colored the lake bright green and aqua and boats ran with grass colored bow waves and wakes. This is apparently an annual late summer event that fortunately for the fish, only lasts a few days. It is probably fueled by a combination of runoff and nutrient rich sediments.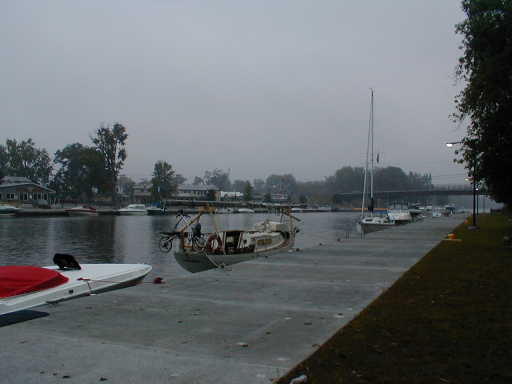 Tied up at Sylvan Beach

Sylvan Beach at the lake's east end is a little town that attracts the summer trade with a swim beach, free overnight tie ups, and a half dozen waterfront restaurants and taverns and a small amusement park. We had a pleasant visit with four cheerful Canadians aboard their forty foot sailboat on the wall ahead of us. This crew of happy retirees were headed to the Caribbean and possibly on to Venezuela for the winter and reminded one of kids just out of school for the summer. It's likely we'll encounter them again somewhere.