September 10, 2000 - Little Falls, NY - N 43° 02.099' W 74° 51.916'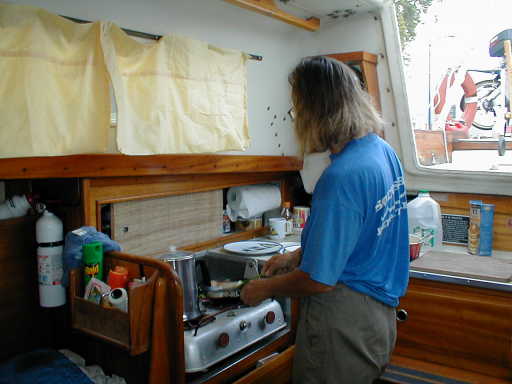 The cook makes up a batch of Sunday morning pancakes

Overcast skies gave way to a mild hazy early September day with the dried leaves and rag weed pollen smell of fall. We decided a full day was in order with this good traveling weather and set our sights on Little Falls, about 50 miles to the east. About mid day we entered our first descending lock. From here on out, we go down until we hit sea level and tidal waters at Albany and the Hudson River.

This day saw us enter the Mohawk River Valley a main transportation corridor from New York's earliest days until now. At some points the Thruway, canal and a main rail corridor run within a few hundred yards of each other. As we neared Little Falls the valley narrowed down and we began to catch glimpses of considerable sized hills above the canal's fringe of trees. Much of the day was spent "ditch crawling" along long straight stretches of line cut that were not as interesting as the rivers west of Lake Oneida. And even though it was Sunday we steamed along mile after mile without seeing another boat. Indeed, the general impression of wilderness and remoteness along here was a surprise to me, no houses, roads, or other signs of human use. After almost ten hours of travel we were happy to tie up at the Little Falls town park.The free 30 amp power has prompted Chris to declare a work day, so I am off to find the public library and see the sights which include the higest single lift lock on the system, a 40 footer.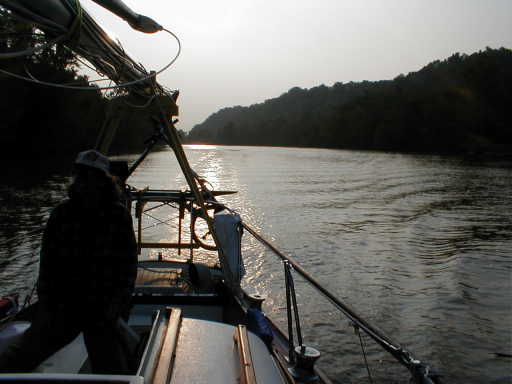 The canal trails behind us as we near Little Falls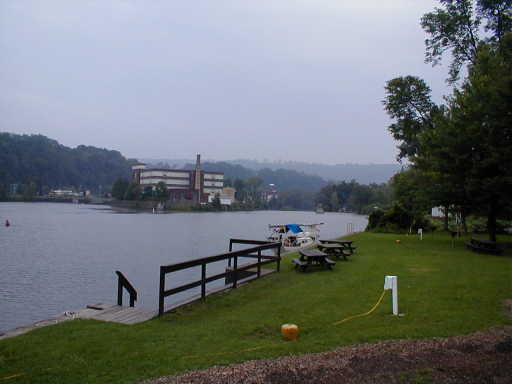 Titania tied up at the Little Falls terminal