September 17, 2000 - Saugerties, NY - N 42° 04.383' W 73° 56.658'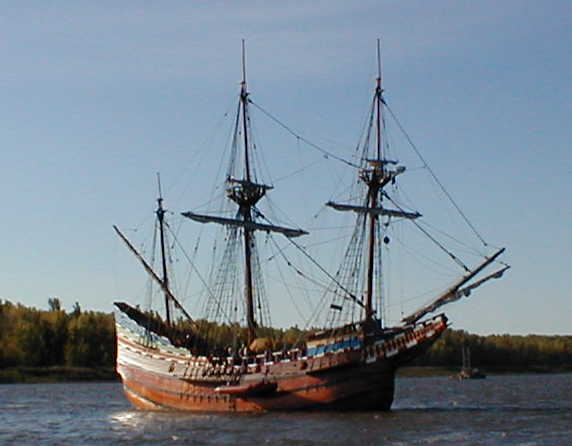 A neighbor at our Middle Ground Flats anchorage

The morning dawned over steaming silver waters as the river gave up its summer heat to the forty degree air. We spent a quiet night and got going early, eager to get our mast up at the River View Marina five miles down river. We passed by another interesting ship in the anchorage, a replica of, I suspect, Henry Hudson's vessel. I believe this is a ship little changed in design from Columbus's day. She looked like a proper ghost from the river's past when first viewed through the morning mists and the wavering distortions caused by cold air over warm river water.

By 10 am we were in the process of turning our own vessel back into a sailing ship, an action completed with the aid of an elderly Higgins crane and a youthful crew of marina helpers. We then moved on down river, now bucking a stiff headwind and a foul tide. Around 5 pm we reached one of the prettiest anchorages on the Hudson, our faithful guide Skipper Bob tells us in his book on anchorages. It's tucked away on a sharp bend in Saugerties Creek and on one side a sheer rock cliff looms above us. It is totally protected and surprisingly secluded being so close to town.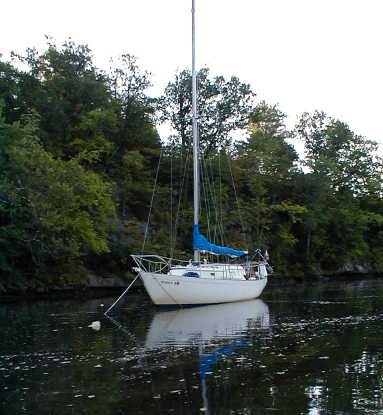 Morning at Saugerties (with the mast up!)