September 20, 2000 - Liberty State Park, NJ - N 40° 41.767' W 74° 3.800'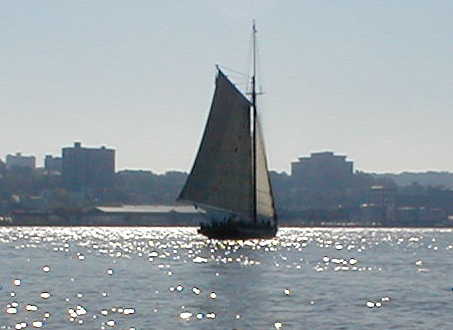 The Clearwater

Our schedule today did not allow us to take advantage of wind and tides. Only the last hour or so of ebb was left to push Titania seaward this morning. Shortly after clearing the bridge we encountered a Hudson River sloop replica the Clearwater. She was just setting sail and we watched as her gigantic gaff main inched up, then as she set her jib. She fell off on a close reach and proceeded at a stately pace, her decks crowded with school children out to see the river this mild warm morning. After we passed her we looked back to see the big beamy gaffer with the 500 foot sheer vertical stone wall of the Palisades behind her-surely the kids will remember that day afloat.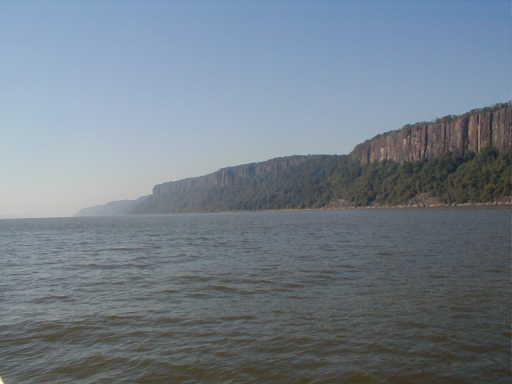 The Palisades

The massed buildings of Manhattan gradually solidified as we passed under the "great gray" George Washington bridge , a two decker carrying plenty of mid morning traffic. I tried to photograph the little red light house of childhood storybook memory under the bridge but it is pretty hard to pick out.

The clustered cubical apartment buildings and towers of Manhattan lay to port with New Jersey to starboard as noon came and went. Now we were in the heart of the Big Apple. Helicopters racketted overhead, a tug and barge went by, the tour boat and ferry traffic wasn't too bad yet as we watched the sun gleam silver on the top of the Chrysler Buidling. A big white liner was being pushed and shoved by two tugs as we passed by. It took them a good 20 minutes to ease her into the berth. We now saw the twin towers of the World Trade Center ahead and dim and distant in the mist a distinctive profile holding her torch aloft.

Lady Liberty, copper green with her high held bright torch had several tour boats milling around in front of her as we approached the anchorage behind Liberty Island. I see why. She is pretty impressive out there standing tall and alone on her little island. I thought of what the troops coming home from World War II on their crowded troop ships would have thought upon seeing her there. Today she doesn't greet many immigrants and returning soldiers. They come now by different paths. But she still stirs the soul of a resident New Yorker. We are anchored within sight of her now ( at least her flaming torch shows above the trees). Tomorrow, perhaps, the ocean awaits us.