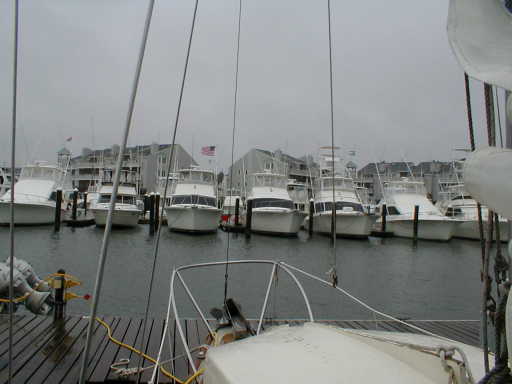 Titania faces a row of scary looking motor boats at the marina

We ran on getting wetter and now beginning to wish we were in Cape May. At last its jetties appeared dimly through the rain about a mile away. We rounded up furled sail and motored in against the stiff 20 to 25 northerly. It was surprisingly cold and when Titania flung a bit of sea back into our faces it felt warm and tasted salty.

We were happy to get into the calm water of Cape May Harbor, but once inside in the driving rain and wind where to go? The wind swept shallows offered little promise for anchoring. We blundered about for close to an hour ( along with a couple other raft-ees from Atlantic City that we recognized. One tried to anchor 3 times before giving up.) Finally we ended our wandering in the Canyon Club marina, stuffed full of nearly identical 40 foot sports fishing boats. They are all white, shiny, and new equipped with outriggers and having names like Dough Boy and The Reel Thing. Ashore stand rows of identical condos behind the rows of identical boats. It's a curiously sterile odd sort of place. We were happy to find any port in a storm and are now tied to a dock as the chill wet wind keens and moans and rattles our halyards. The first northeaster of fall reminds us that the days shorten and Titania's season is running out. During the night we had winds in excess of 30 knots and in the morning a gale warning was up for the coast. So today, Tuesday is a workday.