September 28, 2000 - Reedy Island, Delaware - N 39° 31.0' W 75° 34.5'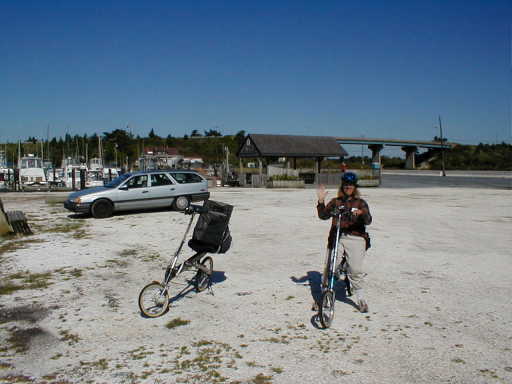 Ready for a bicycle excursion of Cape May

Sept 27 was a stay put and work day. I cycled around Cape May in search of a magazine story while Chris worked. Cape May at the extreme south end of Jersey's shoreline (actually south of the Mason-Dixon line) claims to be America's oldest seaside resort. The entire downtown core is a beautifully kept up designated historic district. The town is known for its many Victorian era homes both simple and elaborate and also still boasts one grand old wooden seaside hotel. In late September it looked out over a wide tawny sand beach largely empty of people.

While Cape May is also famous as a fall bird migration view point ( over 350 species have been seen moving through here) on this sunny September afternoon of light winds I saw more migrating insects than birds. At least five species of dragonfly are known to funnel down the shore and I saw hundreds of them on the move along with many dozens of monarchs. They streamed by constantly overhead all afternoon all going the same way. The dragonflies travel about 12 miles per hour the speed I was riding the bike down Sunset Boulevard, and they often actually follow the highway. Where do they go? How long does it take them to get there and do they come back?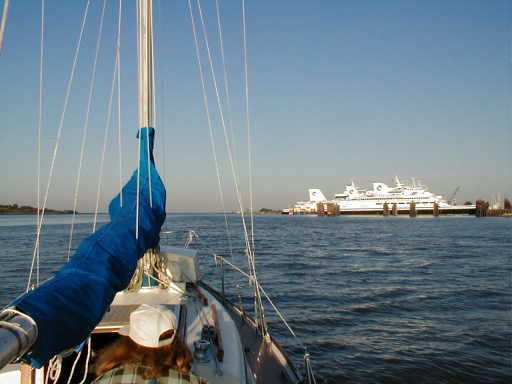 Motoring by some ferries and into Delaware Bay

We shoved off at dawn September 28 for the long run up Delaware Bay. The wide but extremely shallow bay is known for its steep chop and strong currents. A run up the Delaware with a slow auxiliary sailboat is an all day affair and there are relatively few harbors or places to stop between Cape May and the C&D canal. Like the monarchs we just had to make a jump. You may be out of sight of land in the lower bay and yet it is only 20 feet deep. It is also sprinkled with pot buoys and fish stakes of various sorts to make things more interesting. After a couple hours of thrashing along it smoothed out as we began to get up into the narrow part of the bay but then the tide turned and ran against us. As the bay narrowed the current grew stronger.

Delaware Bay has about a five foot tide and currents up to 3 knots. We found our speed over the ground as the little engine pushed against both tide and wind was halved at times. It was cool too as spray flew aft when the bow smacked into the chop.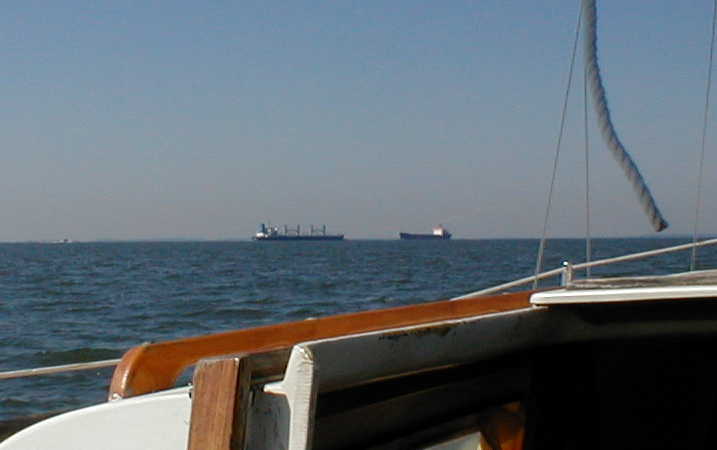 Ships passing in Delaware Bay
After a very long uphill climb we arrived at a potential anchorage just 4 miles from the canal, the 14 mile short cut between Delaware and Chesapeake Bays. It looked rather open and windswept this evening and the currents were strong but it had been a long day and with dusk approaching we were ready to quit. We anchored as a few flocks of geese arrowed over in formation riding the now chill evening north wind. We lingered in the cockpit long enough to enjoy a sunset, something notably lacking from the marina scene and then went below to escape the autumn chill.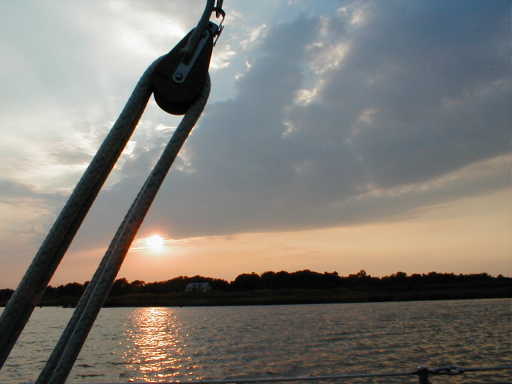 Sunset at Reedy Island

During the night the wind keened and clattered the halyards and the strong pull of the tide swept us back and forth. We could hear the current flowing past the bows as if Titania were under way and at times we ended up broad side to a considerable chop rolling through the anchorage. We got about three hours of sleep. On one check to see if we were still in place I looked out the window to see Orion just rising in the east- old man winter is closing in on us.