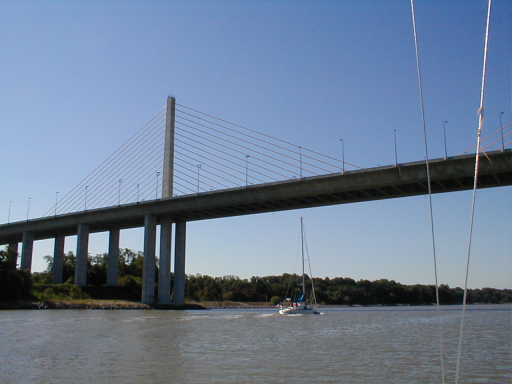 The newest bridge over the C & D canal - a rather interesting design

When we got ready to weigh anchor from our restless anchorage we found the boat had drifted over one rode and fouled it during the night. After 40 minutes or so of poking and pushing with the boat hook, Chris decided there was only one thing to do, go down and free the line which we suspect had fouled the prop and then probably taken a wrap on the shaft as the engine warmed up in neutral(The stiff oil causes the prop to rotate slowly when she's cold). Chris stripped, put on his ski belt and a line to keep him near the boat as the tide was running hard. Like the brave heart that he is, he disappeared into the murky brown depths of Delaware Bay. After three brief descents he had the line freed up. It was invigorating he admitted as he dried off. Hey, it was 29 degrees in some nearby inland city and about 42 where we were that morning though the Bay was considerably warmer.

After that the run to Chesapeake City was routine and we managed to squeeze into the free dock. Now we plan to retire early to make up for our sleepless in Reedy Island night.