N 39° 21.7', W 75° 58.8'

October 1, 2000

Turners Creek, Sassafras River, Chesapeake Bay, Maryland

Thick morning fog delayed our departure from the Bohemia until after lunch and light winds then made us proceed under power. The Sassafras is one of the larger rivers on the upper eastern shore. Like most Chesapeake tributaries it has numerous fingers and coves and smaller streams. Many of these on the upper bay have been enhanced by a large marina mostly occupied by Delaware and Philadelphia based boat owners. On this mild Sunday afternoon many marina tenants were out and about and the bay was VERY busy. I lived for 2 years here in the late 70s and now the upper bay in October equals mid summer peak weekend traffic near Baltimore then. I can't imagine what weekends in summer are like here now. I don't want to see it either. Lake Ontario has its compensations for sailors, one of them being its wider spaces and lack of 40 foot sportsfishermen.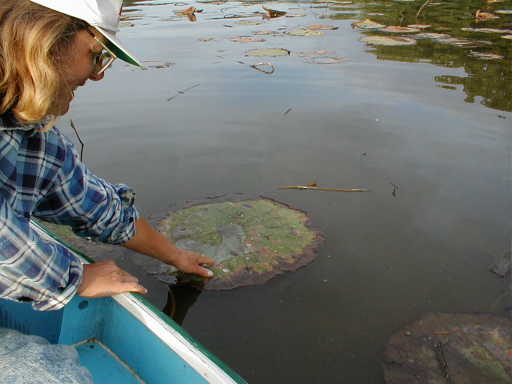 A giant water lily leaf

By six pm, though, the constant din of engines had quieted and the ever present rolling and wash on shore from wakes had diminished at our Turners Creek anchorage so we took the dinghy off for a brief exploration. Earlier we had tried to get Titania into Turners creek but unable to find the 11 foot channel and put off by all the permanent moorings here we gave up. With the dinghy we explored and I noted some very large water lily leaves, the like of which I'd never before seen. We also enjoyed a brief walk on the low tide beach. We spent a quiet night with no wind on the hook here along with a boat we locked through with early in our canal trip and then subsequently tied up with in the Shrimp Box raft- a big Bayfield from Toronto, the Maple Sugar. No sign of the pleasant couple on the aluminum boat though.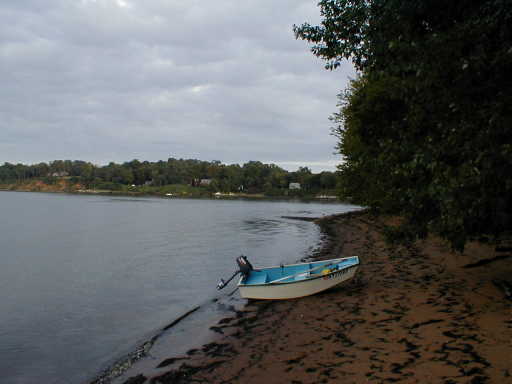 Low tide at Turners Creek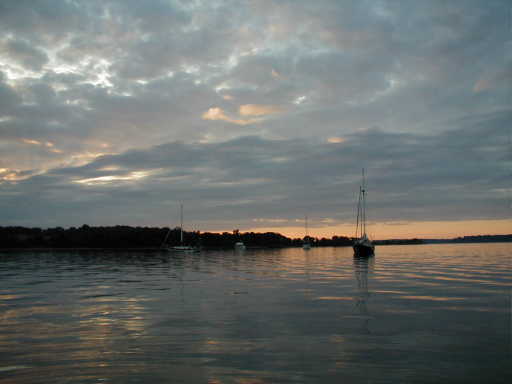 Turners Creek sunset