N 39° 16.955', W 76° 36.533'

October 6, 2000

Baltimore, Maryland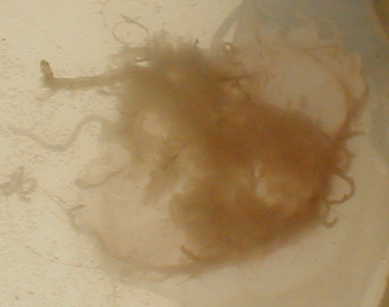 A jellyfish in the glass bottomed bucket

With a twinge of regret we left our peaceful anchorage with a light east wind to take us out of the Chester River, so far the nicest anchorage yet. We savored the quiet warm nights of moon silvered water, flights of migrant geese calling overhead, owls calling, and morning deer at the water's edge. We dipped up a jelly fish for close study and with the dinghy briefly explored a deep narrow protected creek as a possible future roost for Titania.
Looking out from a creek as a canoe passes by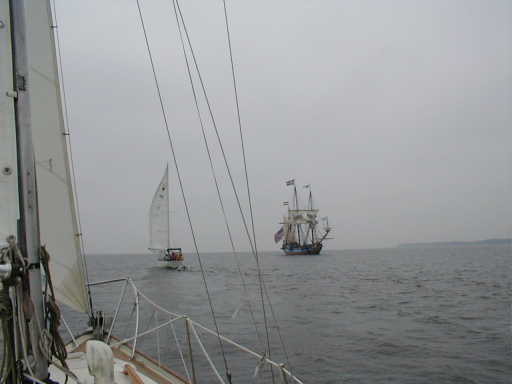 We pass an interesting sailing vessel

Now we left the tranquil Corsica astern and set course in heavy haze for big busy Baltimore, Chris's birth place. As we sailed out of the Chester we met a historic replica sailing vessel under power going up the Chester. She was lavishly ornamented with carvings and a splendid rampant red lion figurehead. Her transom gave her home port as being in Delaware.
The reach and run across the bay was pleasant and uneventful smooth water sailing. Up the Patapsco in about one mile visibility we did encounter a bit of port traffic above the bridge. Just as Titania, a Coast Guard buoy tender and a very large car transport ship converged on the same 50 square yards of water the cell phone rang. Chris decided to ignore it-hey it's hazardous to talk on your cell phone in traffic. We settled in at a dock at the inner harbor marina for a work day and Chris returned his call. Good cell coverage here in the big city too.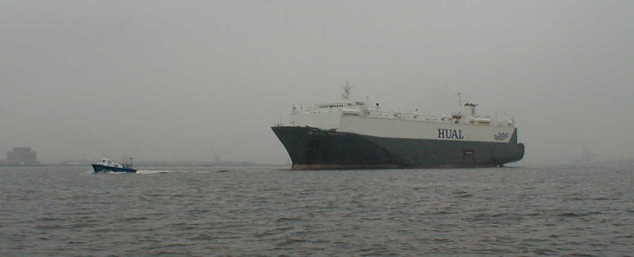 A car carrier ship with a pilot boat in front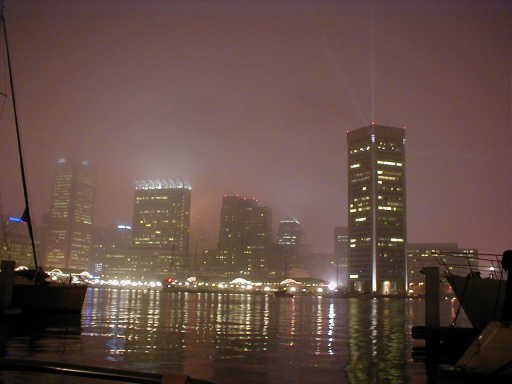 The view of Baltimore at night from our slip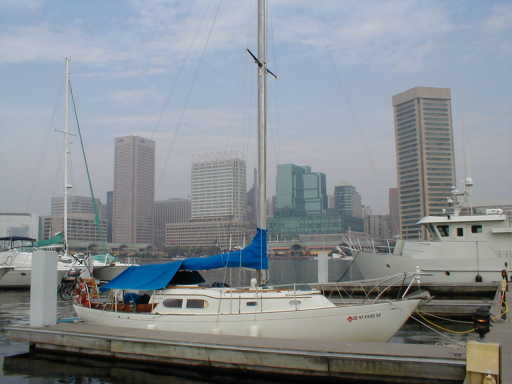 Titania at her inner harbor marina slip

Friday wasn't as productive a day as planned. After listening to the forecast for HIGH temperatures in the upper 40s by Monday we decided we needed a heater. We remembered how clammy and cool that northeaster had been in Cape May and so set about finding a heater by calling various hardware and discount stores as located near us from an internet search. Alas, no one had a heater. They weren't "in season" yet in Maryland. Got some coming in Monday one store told us. Heck, we wanted it now.

We hiked down to the visitor's center for a map and debated taking a bike, a bus, taxi etc to the three plus mile distant deaprtment store. Then we thought to try the West Marine Store, source of all good things for boaters, located a couple miles down the river. Yep, one heater left she said. Great. Put our names on it!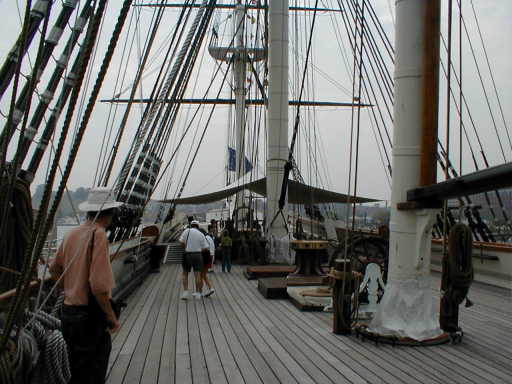 On deck - the USS Constellation

The next task was getting to the store. No one wanted to get slaughtered on their bike on Eastern Avenue, so we opted for a water taxi ride. This was a good move. We got to the store and got a nice relaxed look at the harbor. It is a busy port. There are large mysterious piles of brown black white and gray stuff here and there, oil and chemical tanks, factories belching smoke and vapor and a big Domino sugar processing plant with a ship along side. (We saw a Domino Sugar barge presumeably loaded with corn syrup in the C&D canal). There are a couple of fairly active container terminals and a place where ships unload cars, now being expanded to hold 500,000 cars the water taxi skipper told us. It would be interesting to know how many cars one of those wall sided huge HUAL floating boxes transports each trip. The port still ships some grain and probably the big black piles of stuff are coal.

Adding to the waterfront interest and activity is the yacht traffic. We saw a half dozen big schooners at different spots. They are probably gathering for a race taking place next weekend. By the time we had tracked down our heater and gotten it, and returned to the boat, there wasn't a lot of day left for anything else. Perhaps we'll go tour a bit tomorrow as we probably will spend the weekend here.