N 39° 9..08', W 76° 29.44'

October 10, 2000

Rock Creek, Patapsco River, Chesapeake Bay, Maryland

On a cool gray morning Titania cast off from the well protected confines of the inner harbor and proceeded down the Patapsco to her winter home on Rock Creek. We had a good brisk wind and so under main and working jib Titania hurried along past terminals, warehouses, a roll on roll off ship, tugs, and barges leaving a wide white wake astern. After just two hours she was plugged back into an electric outlet to keep her new heater cranking out btu's.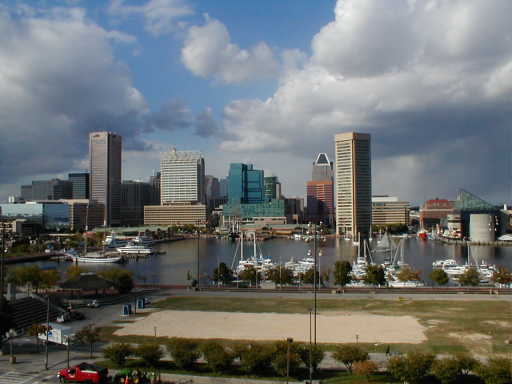 Baltimore Inner Harbor from the top of Federal Hill:

The schooner Clipper City to the left;

The Constellation far side of the harbor just left of center;

A skipjack under sail;

Titania near side of the harbor to the right under the triangular Aquarium

Baltimore, Charm City USA, proved a fine layover. The Inner Harbor Marina berths provide panoramic views of the city's respectable skyline, and the constant flow of yachts, schooners, work boats and various historic oddities through the harbor lends interest to the scene. During our stay we enjoyed a city festival at Fells Point, one of the city's big popular events. Fells Point is an old neighborhood where once port workers and seamen lived. It has now gone upscale with apartments and trendy shops, restaurants, galleries, and bars. The festival brought hordes of people to the waterfront. We joined the sluggish flow of humanity and washed up and down the rows of food and goods vendors. Several interesting vessels caught our eye. One was a restored skipjack, another an early 1900's Lawly built yacht and we looked over several fine big schooners including an 1880's black steel hulled ship the Night Hawk.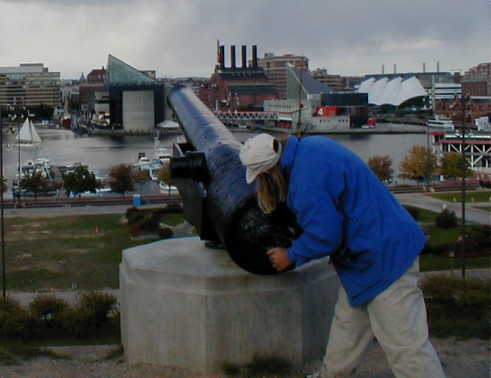 Sue prepares to fire on the invading skipjack

The next day we caught a ride with Jean Pitt to the Annapolis Boat Show though not without complication. Jean was to pick us up at 1 pm but a morning race for the cure ( 27000 men women and kids, walking jogging and running down Light Street, a literal river of runners, to raise funds for breast cancer research) followed by a 2 pm Columbus Day parade seriously clogged up the city streets to our location with detours and grid lock. We finally connected at 3:30 and got into the show around 4:30 and looked around for 2 hours. At that late hour the boat show was NOT very crowded. We looked for magazine editors and cabin heaters and climbed on one boat, a Shannon 47. Nice woodwork, big bath rooms surprisingly little storage space for 3/4 million dollars. Chris calculated that each monthly payment for this boat was about equal to the cost of a budget boat such as the Grampian 30 we saw for sale for $5000 a couple years back or a Bristol 33 that sold for $7000 this spring back home.

One show stopper was a 70 foot wood epoxy boat by Joel White's Maine boat yard, a W Class that was in appearance much like a half sized J boat. With its oval cockpit, fancy wooden wheel and teak decks it conjured up shades of the Robber Barons 21st century style. But there were small affordable boats, too, on display, kayaks, dinghies and rowing boats. We were intrigued by a 33 foot Casey cutter, an old timer, outfitted with a high tech electric auxiliary and 12 batteries. When under sail the free wheeling prop would turn the motor which became a generator. With a good wind, the inventor said she could put power back about a third as fast as she used it. Drag not withstanding, this is a slick way to run a sailboat auiliary, storing up "excess" energy collected by your main and jib for when you need it.

The weather had turned much colder by now and we spent Monday as a workday in Baltimore with night time temps around forty degrees. Today is a bit warmer but it does feel like it's time to haul.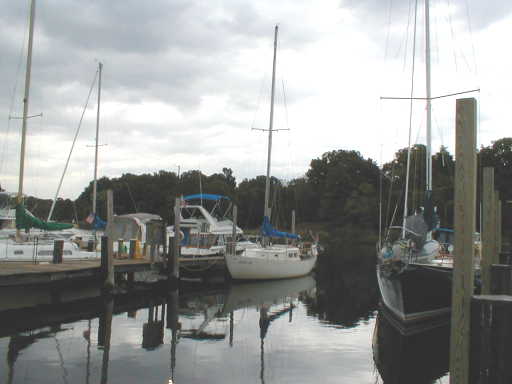 Titania docked at Fairview Marina, Rock Creek

This will probably be our last posting until next May, Then, fates willing, we hope to retrieve Titania and return her to Lake Ontario where she will go back to day sailing, a little cruising, and perhaps a bit of teaching and/or the odd charter for Silver Waters. So for now her ocean and estuary wandering pauses until longer warmer days come again. Click around to this web page then. To be continued.